Mark Growden art show and New Orleans album preview concert featuring Myles Boisen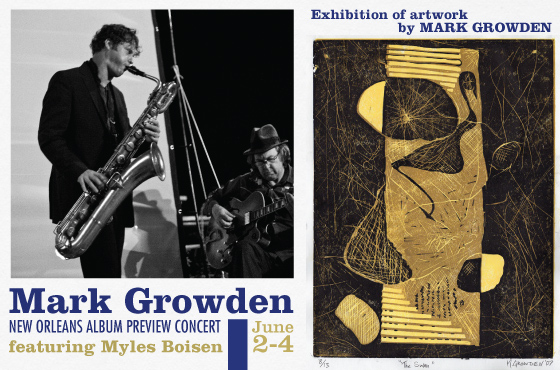 Photo by Richard Migliore
Show times and prices:
Thursday, June 2
Friday, June 3
Saturday, June 4
Doors 7:30pm, show 8pm
Sliding scale: $20-100
San Francisco-based composer, songwriter and multi-instrumentalist Mark Growden is traveling to New Orleans next month to record his third album with Porto Franco Records. Be one of the first to hear the new material as he debuts it in a three-night run at Porto Franco Art Parlor, June 2-4. The album will feature some of NOLA's finest musicians as well as his long-time collaborator and dear friend Myles Boisen. Myles is co-producing the record with Mark and will be joining him on guitar at the Porto Franco shows.
In the last three years Mark Growden has chosen an unusual and ambitious approach to creating music. In 2009 he started his collaboration with Porto Franco Records with an album that best represented over a decade of his career to date. Accordion-driven and dark, "Saint Judas" was recorded in Oakland with a cast of collaborators whom Mark has come to call his family. The 2011 country folk album "Lose Me in the Sand" was a radical departure. To record it Mark traveled to Tucson and recruited a band of local veteran folk players. He also put down the accordion for banjo and a sruti box. With the New Orleans album Growden returns to one of his first instruments – the saxophone.
Porto Franco will also display original artwork by Mark Growden including hand-printed show and album posters, paintings and prints. This will be the first show of Growden's work in many years.