Gypsy Brunch with Orchestar Sali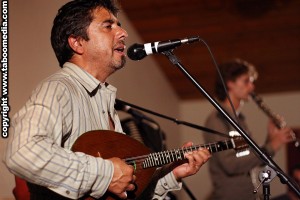 Saturday, December 29
2-4 pm
953 Valencia Street, SF, CA 94110
2nd floor, no elevator
Doors at 1:30 pm
Suggested donation: $20+
Lots of food (the Varshavsky family cooking) and drinks (of course)
Orchestar Sali performs high-energy Romani (Gypsy) music from Bulgaria, Serbia, Greece, Turkey, and beyond.
Featured in the ensemble are Peter Jaques (clarinet), Dan Cantrell (Accordion and Voice) and Rumen Sali Shopov (Percussion and Voice).
Over several years of working together, performing and studying music from the Balkans, Middle East and Mediterranean countries, the group has begun innovative and exciting explorations into original compositions and cross cultural collaborations. Maintaining a sound that is stylistically fluent and traditionally respectful, Orchestar Sali is a powerhouse of musical virtuosity, and technical prowess, while also conjuring soul stirring balladry and a wide depth of emotion.